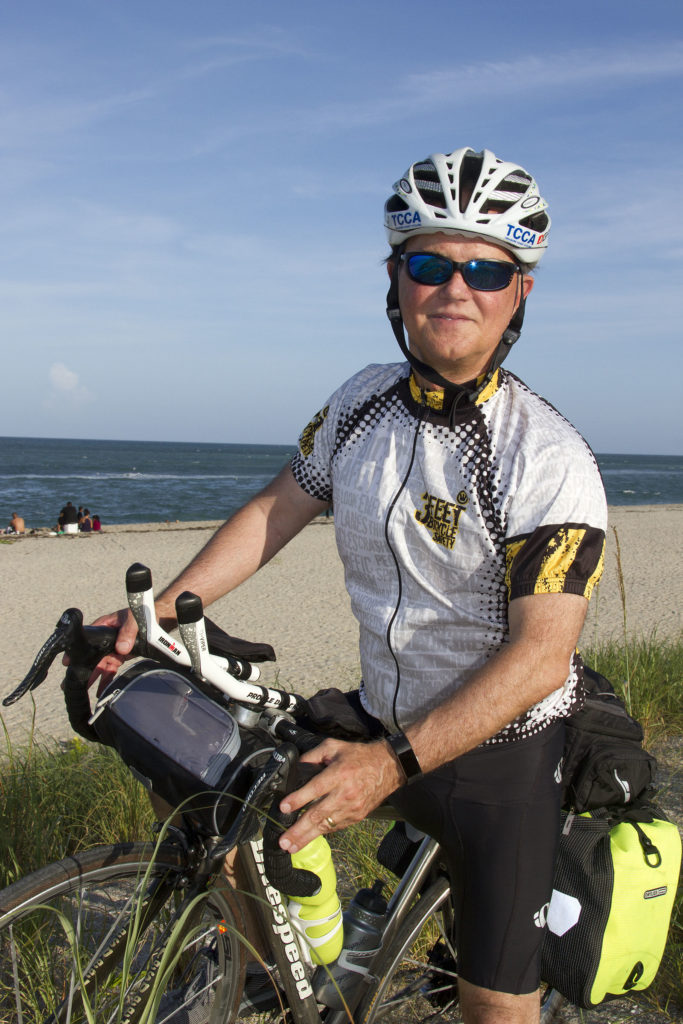 Bicycle Lawyer
Attorney Charles Geary (better known as Chuck The Bike Lawyer) is an avid lifelong cyclist and bicycle lawyer in Stuart, Florida.  As an attorney, Chuck Geary now represents bicyclists who have suffered an injury from cycling accidents in Florida.
Chuck has been a cyclist since grade school in his hometown of Stuart, Florida. Back then, bicycles were designed for local neighborhood riding by children. His first bicycle with more than one gear was a five-speed Sears "stingray". Chuck was the only kid in the neighborhood who had a bike with multiple gears and he soon found that he could easily travel across town and even further on that bike. Contact him today. 
Chuck was first acquainted with road bikes in Junior high school when a cycling group called the Wandering Wheels rolled through town on their way to Key West. They were riding ten-speed Schwinn® Super Sports. This was the first ten speed bicycle Chuck had ever seen. On these bikes, they were able to travel on highways from city to city all the way from Cocoa Beach to Key West, Florida.
Chuck got to know Coach Bob Davenport who led the Wheels group as he stopped in Stuart on his annual trip to Key West. Coach Davenport was the football coach at Taylor University in Indiana, and he designed the Florida trip as an exciting way for the football team to get into shape each spring.
The Wheels Spring Bike Trip evolved into a yearly bike trip to Florida for the Taylor University Students and Chuck began riding with the Wheels group on their trips in Florida and Coach soon became his first cycling mentor.
By the time he was 15, Chuck had ridden across the State of Florida three times. When he was 16, he rode across the continental United States with the Wheels. They started in San Diego, California and rode to Rehoboth Beach, Delaware in 25 days during the summer of 1973. The cross-country adventure was made up of 40 riders from all over the U.S. They had a truck which carried their supplies and their food. Each morning, one of their leaders would ride ahead on a motorcycle for approximately 125 miles. It was his job to find sleeping arrangements for the group by the time the cyclists caught up to him. Needless to say, the wheels have slept in all kinds of impromptu places, including churches, fire departments, city halls, YMCA's, Public Schools and even in open fields on the side of the road. When he was 17, he rode across many countries in Europe.
Bike Attorney, Chuck Geary
Time passed, and Chuck went to college and law school and started a family. His cycling days faded for many years. While he was busy with his law practice and family, the Wheels organization continued to grow and to cycle many routes in many countries. The "Wheels" have cycled across the United States at least 68 times. The Wheels organization cycled through Europe, China, Israel, New Zealand, Russia, England, Scotland, Whales, Canada, and many other destinations.
When he turned 50, Chuck tracked down Coach Davenport and was pleased to find that he still led his annual Keys bike trip. He reconnected with the Wheels and rode each year until Coach retired this trip. Coach just celebrated his 85th birthday. He still leads local bike trips in Indiana and the Wandering Wheels is still active in the cycling community.
Combining bicycling with his law profession was natural for Chuck. Geary Law Offices, P.A. now represents cyclists all over the state of Florida and Chuck has become known as an advocate for injured cyclists. He is a supporter of bike paths and bicycling safety concerns. From his Stuart office, Chuck provides bicycle helmets to underprivileged children and donates bicycles to charity events.
If you or a loved one has been injured in a bicycle accident in Florida, and need a bicycle lawyer, contact the experienced The Bike Lawyer.  Schedule a free telephone consultation today 772-288-4357.