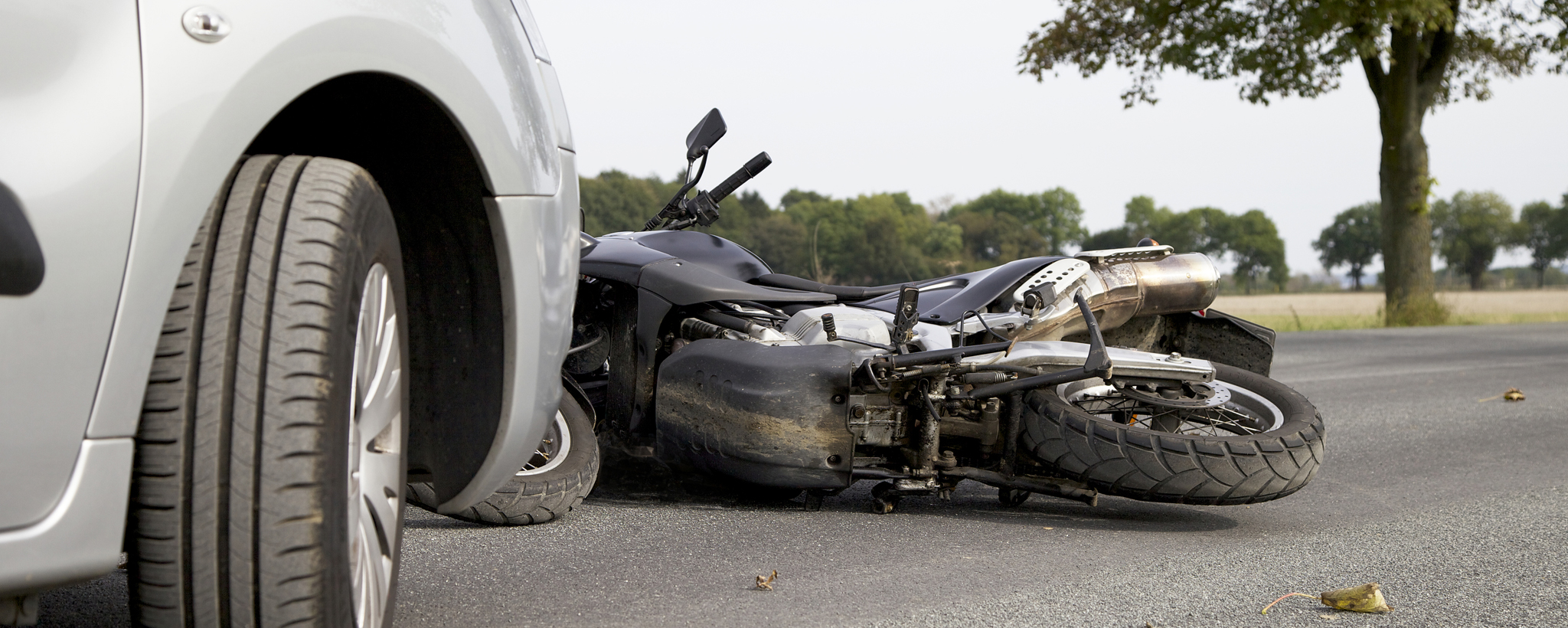 MOTORCYCLE ACCIDENTS
FREE CONSULTATION
772-288-4357
Motorcycle accidents are a common occurrence in South Florida. Unfortunately,  motorcycle accidents can have devastating and permanent effects on the lives of all involved.
In Florida, you have a right to compensation if you are injured in a motorcycle accident due to the negligence of someone else. The success of your claim will depend upon the experience of your attorney and his/her ability to collect, analyze and present the evidence to an insurance company or the courts.
It is very important that you talk to an attorney immediately after your accident. He or she will then be able to quickly get pictures of your vehicle (and the other vehicle) and skid marks, etc. Your attorney will also be able to interview witnesses while memories are fresh and preserve your evidence for future use as your case progresses.
It is important to remember that Florida has laws which limit the time within which you can file an accident claim. Florida also places limitations on the amount of time within which you can claim personal injury protection coverage from your own insurance policy.
In the event of motorcycle accidents or any accident, remember the following suggestions:
1. Stop at the scene. Don't block traffic. Use flares and flashers to alert other drivers.
2. Call Emergency services if anyone is hurt.
3. Call the authorities to report the accident and to obtain an accident report.
4. Protect the Scene. Take pictures and notes. Note the location of all vehicles. Take pictures of skid marks and all vehicles and all injuries.
5. Get contact information for all witnesses. Ask them to write down for you what they saw.
6. See a doctor or go to the emergency room immediately if you have any injuries.
7. Don't admit liability or comment to bystanders.
8. Consult an attorney immediately. Your attorney can negotiate for you and protect your interests.
Experience is important. Our office believes in good client communications. We strive to return all phone calls on the same business day as received. Charles E. Geary ("Chuck") is a fourth generation Martin County resident and has practiced law on the Treasure Coast for over thirty-seven years.
After graduating from Martin County High School, Mr. Geary attended The University of Florida where he graduated with a B.A. in Economics. While at the University of Florida, he served with the Honor Court and was a member of the Alpha Kappa Psi Fraternity. He attended Loyola University School of Law where he earned his Juris Doctorate. Chuck served on the Student Congress, was Treasurer of the Student Bar Association, and a Judge on the Student Bar Honor Court. He was a member of the Psi Alpha Delta Law Fraternity and the St. Thomas Moore Law Club.
Upon graduation from law school, Chuck returned home to the Treasure Coast and began practicing law. He is licensed to practice law in Florida and Washington D.C. and is also a licensed mortgage broker. He served as attorney for the Martin County Code Enforcement Board, the St. Lucie County Code Enforcement Board, and the City of Stuart Variance Board. He was also a Judge for the American Arbitration Association.
Over the years Chuck has continued his family's tradition of community involvement, leadership, and entrepreneurship, building several law firms and two local title companies which served the Treasure Coast for many years. He founded and served as the President of both the Executive Club of Stuart and the Brass Plaque Exchange Club.
Chuck is married to his wife Becky for 34 years, and they have two adult sons. He enjoys local cycling, boating, fishing, diving, and cruising in the Bahamas. He is an avid cyclist and often participates in local cycling events. He was instrumental in bringing early cycling lanes and bike paths to Martin County. He has bicycled across Florida three times and rides his bicycle to Key West every year. He has also cycled coast to coast across the entire U.S. and has cycled through many countries in Europe.
His family has a deep history of legal and community service on the Treasure Coast. Chuck's great grandfather was the first Justice of the Peace in Martin County, his great aunt was the Clerk of the Circuit Court of Martin County, his uncle was a local Judge, and his father served as Chairman of the County Commission.
Please call us at 772-288-4357 for a fast, free consultation about your accident.
CHUCK GEARY
"Bike Lawyer"
"Cycling Advocate"
Charles Geary ("Chuck") is an avid, lifelong cyclist and he represents bicyclists and motorcyclists who have suffered an injury or death from cycling accidents.
Chuck has been a cyclist since grade school in his hometown of Stuart, Florida. Bicycles back then were designed for local neighborhood riding by children. His first bicycle with multiple gears was a five speed Sears "stingray". Chuck was the only kid in the neighborhood who had a bike with multiple gears and he soon found that he could easily travel across town and even further on that bike.
Chuck was first introduced to "road bikes" in Junior high school when a cycling group called the "Wandering Wheels" rolled through town on their way to Key West. They were riding ten speed Schwinn "Super Sports". This was the first ten speed bicycle Chuck had ever seen. On these bikes, they were able to travel on highways from city to city all the way from Cocoa Beach to Key West, Florida.
As the years went by, Chuck got to know Coach Bob Davenport who led the "Wheels" group as he stopped in Stuart on his annual trip to Key West. Coach Davenport was the football coach at Taylor University in Indiana, and he designed the Florida trip as an exciting way for the football team to get into shape each spring. The Wheels Spring Bike Trip soon evolved into a spring bike trip to Florida for the Taylor University Students. Chuck began riding with the Wheels group on their annual trips in Florida and Coach soon became his cycling mentor.
Coach Davenport was a cycling innovator and safety pioneer. Long before the cycling industry had neon shirts and bike flags, Coach created homemade neon bike flags and neon clothing for his riders. The first bike helmet Chuck ever wore was a hockey helmet that coach insisted all riders wear.
By the time he was 15, Chuck had ridden across the State of Florida three times. When he was 16, he rode across the continental United States with the Wheels group. They started in San Diego, California and rode to Rehoboth Beach, Delaware in 25 days during the summer of 1973.
This cross-country adventure consisted of 40 riders from all over the U.S. They had a truck which carried their supplies and their food. Each morning, one of the leaders would ride ahead on a motorcycle for approximately 125 miles. It was his job to find sleeping arrangements for the group by the time the cyclists caught up to him. Needless to say, the wheels have slept in all kinds of impromptu places, including churches, fire departments, city halls, YMCA's, Public Schools and even in open fields on the side of the road. When he was 17, Chuck biked across many countries in Europe with a group called the "Spinning Spokes".
Time passed, and Chuck went to college and law school and started a family. His cycling days faded for many years. While he was busy with his law practice and family, the Wheels organization continued to grow and to cycle many routes in many countries. The Wheels have cycled across the United States at least 68 times. The Wheels organization also cycled through Europe, China, Israel, New Zealand, Russia, England, Scotland, Whales, Canada and many other destinations.
When he turned 50, Chuck tracked down Coach Davenport, and was pleased to find that he still led his annual Keys bike trip. He reconnected with the Wheels and rode with them to Key West each year until Coach retired this trip. Coach just celebrated his 85th birthday. He still leads local bike trips in Indiana and the Wandering Wheels organization is still active in the cycling community.
A year later, through an ad in "Adventure Cyclist" magazine, Chuck met a group of cyclists who were riding to Key West on a trip organized by another well know cyclist, Mr. Earl Stine. On the date of his retirement, Earl began riding to Key West alone on his bicycle on a regular basis. Earl now connects with riders through Adventure Cyclist Magazine and he leads organized trips to Key West three or four times per year. Earl has ridden to Key West a total of 35 times and is well known by the locals along the Key West route and he is often referred to as the "Mayor" of Key West. Chuck now had a new riding partner and he has ridden with Earl for three years.
This year will be Chuck's 11th ride to Key West. On the upcoming trip, the group will leave Florida City and ride to Key Largo (27 miles). The nest day they ride to Marathon (55 miles). After that they ride to Key West (45 miles). They reverse the process and stay at the same locations on the way back for a total of approximately 250 miles. The ride will take the group across may miles of open ocean bridges, including the Seven Mile Bridge. All riders carry their belongings and bike tools on their own bikes. They stay in local "mom and pop" type motels. Groups vary in size from a few riders up to approximately 30 riders.
Cycling can be a lifelong sport and Chuck intends to take these long-distance trips for the rest of this life. Future plans include trips in Cuba and Jamaica in addition to his annual Keys ride. Chuck would like to turn the Keys ride into an annual charity ride and hopes to encourage other riders to join him each year.
Combining cycling with his law profession was a natural thing for Chuck. Chuck's law firm represents cyclists and motorcyclists all over the state of Florida and Chuck has become known as an advocate for injured cyclists. He is also an advocate for bike paths and bicycling safety and motorcycling safety. From his Stuart office, Chuck gives away bike helmets to needy kids and has begun donating bicycles to worthy charity events.
OUR ATTORNEYS ARE AVAILABLE TO YOU FOR A FREE TELEPHONE CONSULTATION AT ANY TIME!
CALL US AT 772-288-4357 NOW!