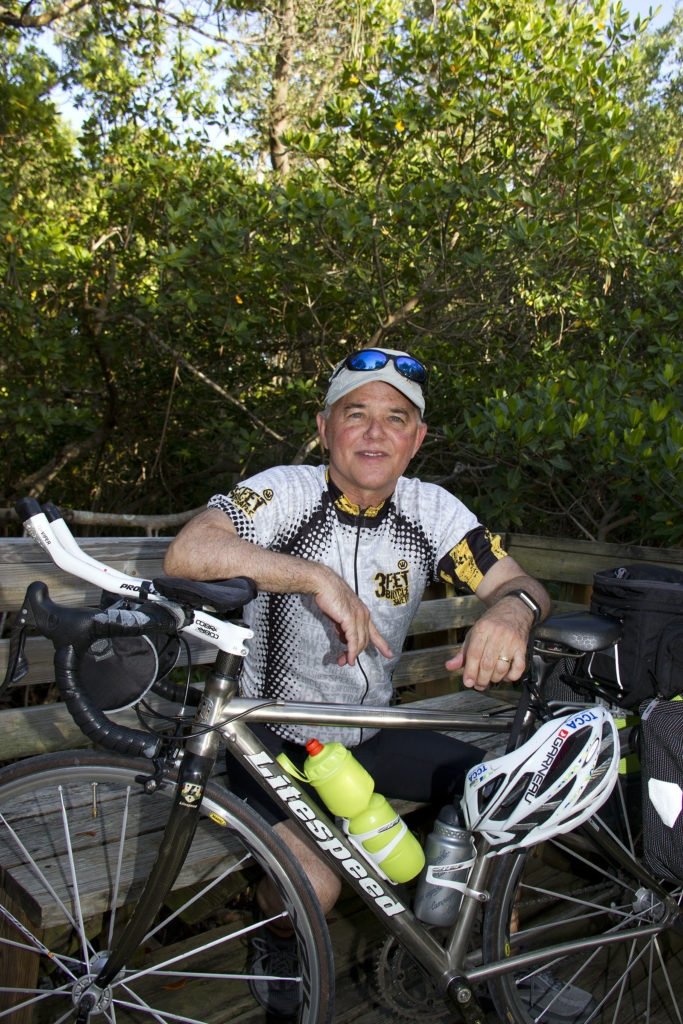 CHARLES GEARY, ESQ., CYCLING ADVOCATE
How I went from a cyclist to a Cycling Advocate.
I was headed to Key West on my bike with my friend John. This was to be a new experience for John. He lost 30 pounds, bought a new bike and trained for months for this trip. We were riding with an organized group from Cocoa Beach, Florida to Key West, Florida.
About halfway through the trip as we were riding through Miami Beach, I heard a lot of commotion behind me and I saw pedestrians pointing in shock at something directly behind me. I turned to see my friend John on his back in the street with his bicycle twisted beside him. John had just been hit by a car! My immediate response was to drop my bike and run back to comfort him.
John was dazed and confused. He knew he had just been run down by a car. I assumed the driver of the vehicle was going to call an ambulance and the police as I was helping John. That was not to be the case! The driver rolled down the window, told the shocked bystanders that John was "okay" and then proceeded to drive away. I was in total disbelief!
John was still in a state of total confusion and full of adrenaline at this point. The surprising thing is that John was initially more worried about his bicycle than his injuries! He asked me to call the police and he also asked me if I thought I could get him a new bicycle from the driver's insurance company. He had no idea how badly injured he was!
Now I was in shock! All I wanted to do was to help my friend and fix this situation for him as quickly as possible. As I turn to talk to the driver, she left the scene of the accident and proceeded to drive away into the crowded streets of Miami Beach.
At this very moment, I became  a cycling advocate for my friend and for future cyclists. I left my friend with a concerned bystander and proceeded on foot to chase the driver down the crowded streets of Miami Beach.  Luckily for me, the streets were gridlocked with traffic and I was able to catch up to the escaping car.
I soon got close enough, so I snapped a picture with my cell phone of the car and the tag number. As I was running through the streets, behind the car, I dialed 911 and read the tag number to the dispatch officer. The fleeing driver continued to escape as I followed on foot and yelled at her to "stop the car".  Trying to get her attention, I told her that, "I have the police department on the phone".  She was unable to escape me because I caught up with her at each red light and traffic jam.  I created quite a commotion which eventually led to the car pulling over and returning to the scene of the accident.  I proceeded to take pictures and gather contact information from all witnesses.
The story doesn't end there. My friend required a double fusion in his spine and received years of physical therapy. Sadly, John has not ridden his bicycle since that day. To follow up on my friends request for a new bike, I am proud to say that my firm was able to recover plenty of money to replace his bike (and many more bikes) and to even pay for a new house!  I continue to be a cycling advocate for injured cyclists to this day!
Charles Geary is now known as the "Bicycle Lawyer" from Stuart, Florida. He practices law all over the State of Florida. Mr. Geary is still an active cyclist and continues to ride his bicycle to Key West several times each year. He is active in many bicycle riding groups and bicycling advocacy organizations. He is available to discuss your accident case at any time! Feel free to call him at 772-288-4357.